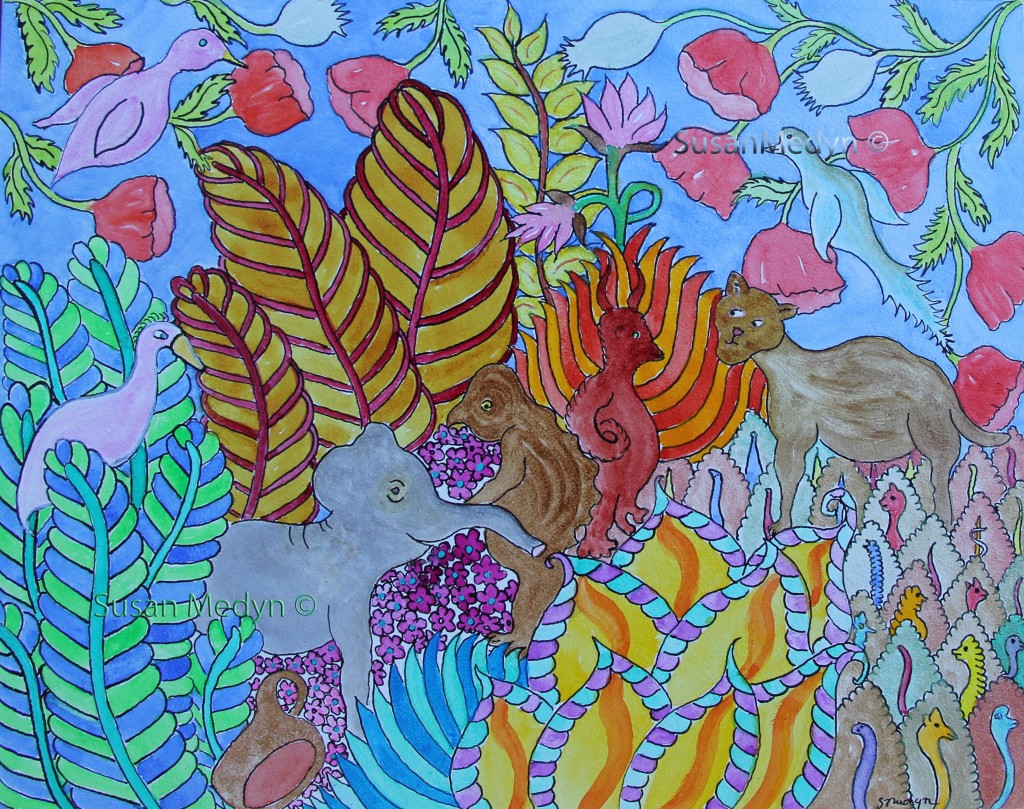 SOLD
Oh my, so much to talk about, so much going on. Just like in high school. Even my creatures can't keep from gossiping. The red horned guy is asking if the elephant is going out with the Slouch, but his friend doesn't know. I can tell you though, all the little cats and snakes know the answer. What do you think?
And, goings on….
I am  again participating in  South Coast Artists Open Studios this Saturday and Sunday July 21st and 22nd from 11:00AM until 5:00PM .
I am stop # 11 on this wonderful tour. 77 artists are opening their homes and studios to visitors this weekend. For a brochure and map, click here. Down the page a little ways you will see the link for the information and directions to my location. Please come visit and see my new work.
And I am in the Little Compton community center Juried Summer Art Show opening this Friday evening. http://www.lccenter.com/
As well as a wild 3 person exhibit at DeBlois Gallery in Newport, RI that goes through the month of July.
And….I have new work at The Art Stable Gallery, Westport, MA along with 7 other artists.
And if you are in Poland…well stop in and see my work at the Szyb Wilson Gallery. More on that trip in another post.
But most importantly I have some wonderful new works for open studios so I hope you will come on down and see the beauty of this area and the wonderful art being shown this weekend.
I am off Route 24 South if you are coming from the Boston area.
Exit 5 in Rhode Island which is Tiverton/Little Compton.
Go south off the exit for 2 miles to Nannaquaket Road. ( right next to a beautiful pond )
Right onto Nannaquaket and a right to 90 North Court.
Blue South Coast Artists signs lead the way!