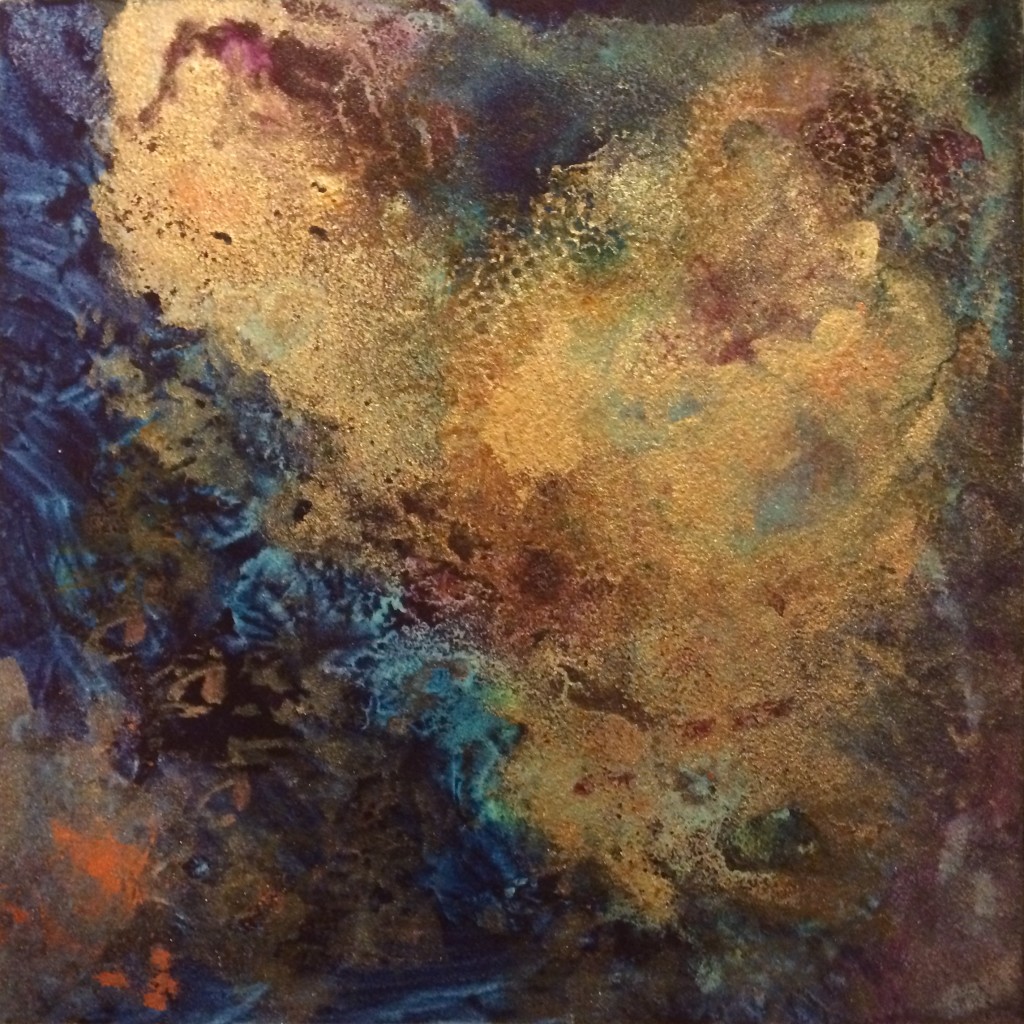 Flight   SOLD
Mixed Media 6″ x 6″
Do you know the movie "I Know Where I'm Going" starring Wendy Hiller?
This is what my painting reminds me of – the famous scene of the dark whirlpool pulling the boat deeper toward the vortex.
Hiller, as Joan, is on her way to the fictitious isle of Kiloran to marry a rich industrialist. She ends up having to wait out a storm on the Isle of Mull,  incidentally one of my favorite places, and the easiest way to get to the beautiful  isles of Iona and Staffa. We once had a boat trip similar to the one shown in this movie on our way to see the basalt walled Fingal's Cave.  Mendelssohn wrote a wonderful overture Fingal's Cave Overture (The Hebrides). Click on the link if you would like to hear the Gary Schneider conducting while viewing some incredible photos of Fingal's Cave.
Another quick segue here. This summer we saw the Turner exhibit  at the Peabody Essex Museum. There was a wonderful painting in the exhibit entitled Fingal's Cave. We were so disappointed that the curator stated that this was a "fictitious cave". We were compelled to write comments to request the error be corrected. People take the written word as fact and it is important for museums to provide accurate information
Anyway, back to the story. Hiller as Joan meets a naval captain who woes her. He is also going to Kiloran and is the true owner of the island and estate that Joan's finance claims is his. While Joan finagles a way over to the isle of Kiloran, her suitor hops into the boat and they set off straight into the Corryvreckan Whirlpool. The scene is outrageous and you think they are all going into the vortex but at the last-minute the fisherman gets the engine started and off they go. And of course Joan marries the suitor over the rich industrialist.
Back to the painting. I was trying to create a type of vortex and when I added bronze gouache, I saw that I had an image taking flight.  Having wings is a good way to stay out of a whirlpool.